Hi Everyone,
Last week we finished up our unit on plants by studying the structure of plants. For our Make-a-Book center we read, discussed, and summarized the beloved children's story,
The Tale of Peter Rabbit
by Beatrix Potter. This was actually a really good book for talking about the different parts of plants because you can draw out incredibly rich discussion based on the types of vegetables that Peter encounters in Mr. McGregor's garden. For instance, we compiled a list of all the different vegetables and fruit that Peter ran by and labeled them (root, stem, leaf, seed, or fruit). A lot of my kiddos didn't know that carrots were root vegetables...
Students also did a mini character study of Peter Rabbit whole group, brainstorming a list of adjectives (some came up with verbs and one student even went for the most obvious descriptor - a rabbit, haha!) to describe Peter. "Bad" was a really common adjective that students gave so I challenged them to come up with some other words that they could use to better describe Peter Rabbit.
Here's a cute craft my students did to help them identify and label the common parts of a plant. While students were cutting and pasting, I walked around and traced their hands for the roots. They look really nice displayed up against the sun on our windows.
During our writing block, students continued their informative writing. Last week they wrote about the different parts of plants. Here are some sample published pieces: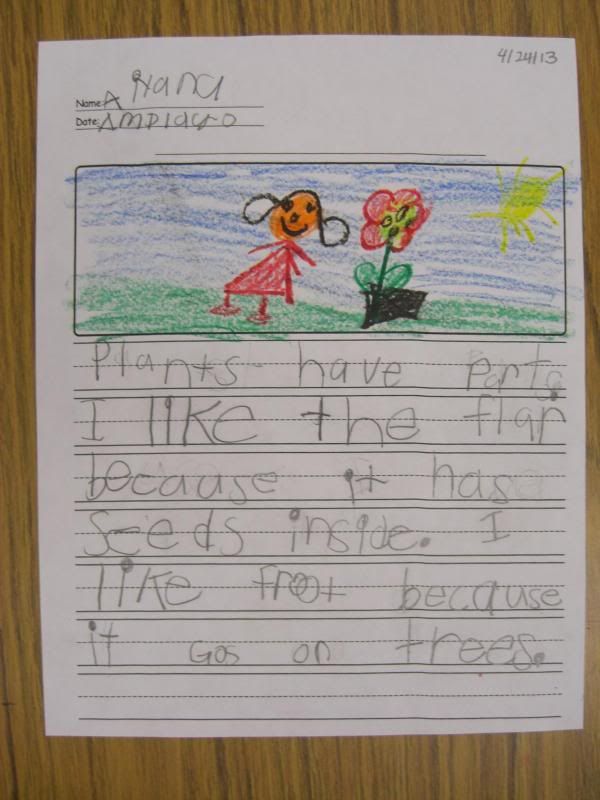 Plants have parts. I like the flower because it has seeds inside. I like fruit because it grows on trees.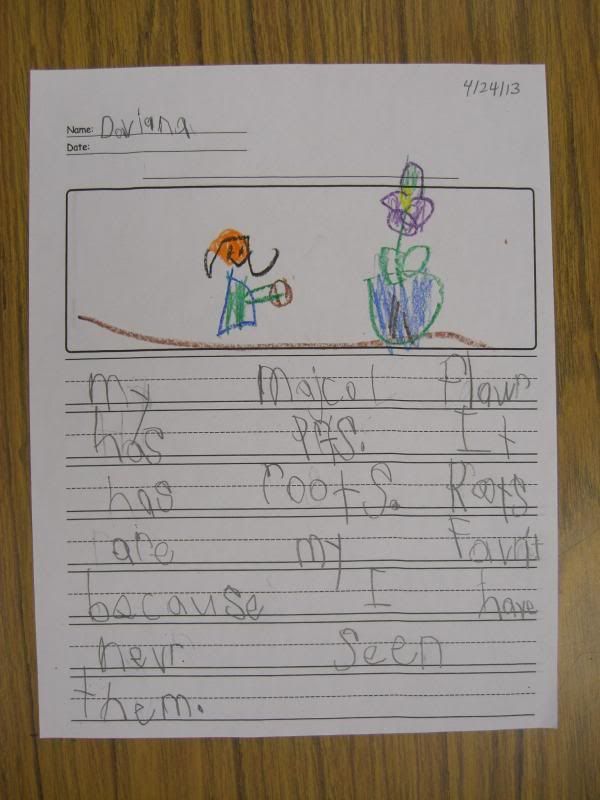 My magical flower has parts. It has roots. Roots are my favorite because I have never seen them.
Plants have different parts. I like the flower because I like the smell. It smells like cherry.
Plants have parts. I like the leaf because it grabs food for the flower.
Plants have different parts. My favorite part is the stem because it hold the leaf. It hold the roots.
Plants have parts. Plants have roots and stems and flowers. Roots are my favorite because they are underground.
After vigorously studying the parts of plants, it was time to celebrate all of our hard work with a trip to our kinder
garden
. I had parents donate potted flowers that we took to our secret garden and planted. I modeled how to plant them first and students quickly pointed out the roots, stem, leaves, and flowers. Connections, yes!
As always, thanks for taking the time to stop by and have a great week!